Global Practices
UNDERSTANDING GLOBAL PRACTICES
A Bird's Eye View of Euthanasia Laws Across the World
Anshi Beohar*
"A peaceful, dignified death is the entitlement of all who want it. And a person should not be forced to leave home to achieve it," said the Jan-April 2018 newsletter of the Australian right-to-die group Exit International, while discussing scientist David Goodall's wish to die on his own terms.
The wish became a reality in May this year, when the noted ecologist and botanist flew across the world to end his life, exactly when and how he wanted to. Goodall had to log precious air miles to travel to Switzerland, home to liberal assisted dying laws, for the simple reason that his own country Australia does not grant the right to die to its citizens.
Not surprisingly, the 104-yearold Australian, who had been campaigning for legalising assisted death, shared his powerful thoughts on the quality of life before he put the brakes on it: "I no longer find much joy in life. Up to, even up to, say, the age of 90 I was enjoying life. But not now," Professor Goodall, who was not terminally ill, told the Australian broadcaster ABC.
Needless to say, Goodall's physician-assisted suicide at an assisted-dying agency in Basel, by exercising his right to die has sharpened debates around euthanasia across the world. It has also put legalisation of assisted dying under spotlight.
Not only are physicians and the judiciary conflicted on the rightto-die movement, there are grave sanctions from societies and religious orders on questions of patient autonomy and desires of the elderly. Euthanasia laws, reinforcing pro-choice guidelines, do exist in some countries, but so does its criminalisation in many others.
Following is a ready roster of global legislations around euthanasia and the complex eligibility criteria drawn up for people who want to have a say in terminating their lives in a dignified manner. It is not only a roundup of laws but also a discussion on how citizens fare in countries that have legalised the right to die and how suffering and quality of life have been defined by diverse nations.
Going Back in Time: Euthanasia Defined Through the Ages
Suryakant Tripathi Nirala in his Hindi version of the Mahabharat writes:
" A peaceful, dignified death is the entitlement of all who want it. And a person should not be forced to leave home to achieve it "
"…The last 58 days on this bed of arrows (death bed) was painful. It felt longer than 100 years…" (translated)
Uttered by the grand warrior Bhishma, who had the boon of Ichcha Mrityu or death at will, the words convey unremitting physical pain. For the battle-weary son of Ganga, the ability to choose the time of his death was a gift like no other.
Interestingly, the incident can be read as a narrative of euthanasia in Indian mythology. In fact, Ichcha Mrityu is the Hindi translation of the voluntary euthanasia concept, as it is understood today.
Several instances of Ichcha Mrityu are available in Indian culture, texts and scriptures. Ideas such as prayopavesa, a Hindu practice or Jainism's Santhara, a practice of gradual fasting till death, were considered acceptable recourses for those who have fulfilled their responsibilities, achieved their goals, and overcome their desires, and who would want to continue their journey to the higher, spiritual life.
Oxford Dictionary defines euthanasia as:
"Painless killing of a patient suffering from an incurable and painful disease or in an irreversible coma"
Though one may be hard-pressed to find the word euthanasia in history, the act of euthanasia -- active, or passive -- with the assistance of a physician, or in the form of suicide or selfadministration of a lethal dose of medication, has existed for a very long time.
Though one may be hard-pressed to find the word euthanasia in history, the act of euthanasia -- active, or passive -- with the assistance of a physician, or in the form of suicide or selfadministration of a lethal dose of medication, has existed for a very long time.
The word euthanasia, Greek in origin, is a mix of the words Eu and Thanatosis which translates into "good killing." It made an appearance in Greek literature around 5th century, during the Classical and Hellenistic period (Youug, 1994). It is believed that Greek citizens in the Classical period, after receiving the consent of the community, could end their lives by drinking hemlock, in order to avoid the senility, weakness, fragility and illness that comes with old age.
Greek philosopher Plato, in both Phaedo and Republic argued that when the time comes, one must embrace death as it will free one from the "shadowy cave of human existence." He was opposed to non-natural prolongation of life, an idea that lies at the core of passive euthanasia.
In ancient Rome, however, suicide or euthanasia was not specifically addressed as an illegal act. Whether it was due to age or moral disgrace, sacrifice of life was viewed as an honourable, courageous act against adversities. Mors Bona appears in Roman literature, which means an honest and happy way of dying and Felici vel honesta morte mori (to die in a lucky and honest way) was an ancient ideal (Kure, 2011). Similar instances of relinquishment of life can be observed in Mark Antony and Cleopatra, Brutus and his wife Porcia, as well as Nero, the last Roman emperor of the JulioClaudian dynasty.
To Terminate or Not to: A World View
Australia
The legislative scheme for assisted dying in Australia has gained context after David Goodall's death described in the beginning of this article. Although Australia does not recognise the right to die, the state of Victoria did legalise assisted dying in 2017 by passing a bill that is all set to be effective from June 2019. However, this would be legal option only for terminally ill patients who not only possess complete mental clarity but also have not more than six months to live.
The legislation has opened up conversations amongst those who, though not terminally ill,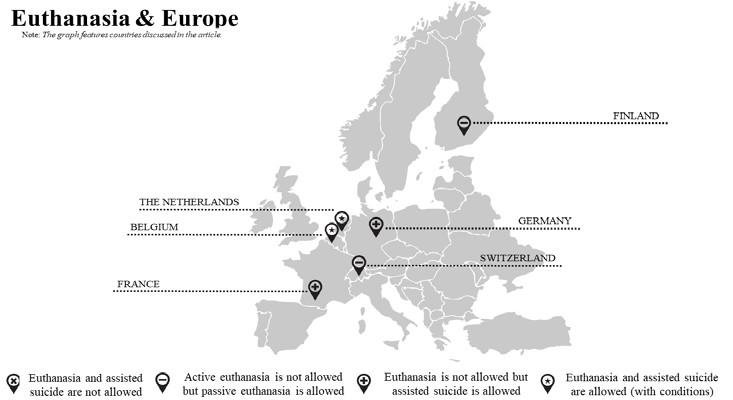 are looking forward to exercising their right to die without any legal implications. As Goodall explained in much-publicised interviews, loss of mobility, freedom and certain faculties were reasons that seemed good enough for him to pull the plug. Terminal illness, according to him, was not the sole criterion for defining enduring and irremediable suffering. In the end, Goodall has ended up being a name and face to euthanasia and an exploration of the idea of a good death.
Switzerland
Physician-assisted suicide has been in practice in the country since 1942 but it needs to be guided by altruism and self-determination. More often than not, this is looked at as a medical recourse.
Owing to its liberal regulations on assisted dying, Switzerland seems to be a big draw for individuals seeking physician-assisted suicide and has frequently been dubbed as the centre of 'suicide tourism' by sections of the media. However, Article 114 of the Swiss Criminal Code of 1937 penalises euthanasia and Article 115 prohibits assisting in suicide for selfish motives.
Euthanasia, or as the Swiss Criminal Code terms it, homicide at the request of the victim, is covered under the Swiss Criminal Code of 1937, Offences against Life and Limb. After an incident of physician-assisted suicide takes place, a police enquiry is conducted to ascertain its compliance with Swiss laws.
The broad laws of the country mean that there are hardly any mandated eligibility requirements for physician-assisted suicide. Individuals do not have to meet the strict criteria laid down in other countries for assisted dying, such as getting second opinion from a doctor, being afflicted with a terminal illness and so on.
United States
The Patient Self-Determination Act of 1990, as the name itself suggests, provides one the right to determine their healthcare strategy. This federal law requires that all healthcare agencies such as hospitals, nursing homes, etc., provide information on advance directives, at the time of admission of an adult patient. A healthcare advance directive can include not only the medical power of attorney, but also a Living Will which can be referred to in the event the patient is incapacitated physically or mentally or becomes incompetent to make sound decisions or loses consciousness. This is mandated in order to protect and respect the rights of those patients who lose all control over their senses. Through this, patients could ascertain the refusal of perpetuation of their lives through artificial and evasive procedures. This precisely is Passive Euthanasia.
Oregon was the first state in the US to introduce the Death with Dignity Act, 1997 which legalised physician-assisted suicide for terminally ill patients. However, this Act prescribes certain requirements that need to be fulfilled in order to qualify for the procedure. It also requires elaborate physiological and psychological tests of the patient and the procurement of a second opinion once he or she requests (in writing) for the administration of a lethal dose of a medication to end life.
It is to be noted that though euthanasia and physicianassisted suicide are often used interchangeably, they are not synonymous. Self-administration characterises physician-assisted suicide while euthanasia requires the final act to be performed by a third party.
Subsequent to Oregon's Death with Dignity Act of 2005, other states in the US have also passed similar legislations. Washington's Death with Dignity Act, 2009; Act 39, Vermont Patient Choice and Control at the End of Life Act, 2013; Washington D.C.'s B21- 0038, the Death with Dignity Act of 2015 and Colorado's Proposition 106, the End of Life Options Act, 2017 are all legislations that allow suffering patients to die with variations. The Hawaii Our Care, Our Choice Act will come into effect on January 1, 2019.
The Netherlands
The first country to legalise euthanasia was the Netherlands in April 2002. In 1973, Dr. Geertruida Postma, a physician, was relentlessly requested by her mother to assist her in the termination of her life. After she acceded to her mother's requests, she was held accountable for murder. Although she received a short sentence, the Court gave an additional open-ended response regarding the patient's right of self-determination. It observed that a physician can administer painrelieving drugs, even if it results in death, when such administration is done to relieve the patient of the pain arising from an irreversible medical condition.
Eventually, with more such cases, the Court went on to form a structure for enabling euthanasia. In fact, much of it was developed as an exception to the application of the penal code. Given below are the criteria of due care to be followed by doctors before euthanising a patient as per the 2002 statute viz. Termination of Life on Request and Assisted Suicide (Review Procedures) Act:
The patient's request for euthanasia must be voluntary and made in full consciousness. If the patient is no longer able to express himself but has previously made a written declaration to that effect (a living will), that must be taken into consideration.
The patient must be fully informed and aware of his condition, prospects and alternatives.
The patient must be at least 18 years of age.
The patient must be in unbearable pain, without any prospect of improvement.
Both the doctor and the patient should have concluded that there are no other reasonable alternatives.
There must be a second opinion from an independent doctor who needs to provide a written confirmation of the abovementioned conditions.
If a minor, aged above 16 years, requests for the procedure, a doctor may accept it, only if his parents have participated in the decision-making process. In case of a minor aged between 12 and 15 years, parental consent is required. In addition to this, the Groningen Protocol (https://www.ieb-eib.org/fr/ pdf/20150204-groningen-eng.pdf&embedded=true) is in place since 2005. It lists the necessary conditions and steps to be followed in cases where severely ill young children, especially newborn babies need to be euthanised. On the other hand, when such a request is made by a patient suffering from mental illness(es), at least one psychiatrist and two independent physicians should be consulted before a euthanasia decision can be arrived upon.
Belgium
Immediately after the Netherlands legalised euthanasia, Belgium followed suit in May 2002. It became the second country to do so and has laid down definitive regulatory and eligibility criteria. The physician must inform the patient about his or her medical condition, prospects, and possible alternative treatments including palliative and hospice care. A legally competent and conscious adult, suffering constant, unbearable pain, and ailing from an incurable disease can request euthanasia in writing or through an Advance Medical Directive. Another independent physician must be consulted to determine the serious and incurable nature of the condition. The physicians who conduct euthanasia are required to report the case for review to the Federal Control and Evaluation Committee on Euthanasia to ensure that the legal requirements are being fulfilled and to check for irregularities. In fact, Belgium is the first country in the world to abolish all age restrictions on the right to die.
Legalisation of euthanasia and voluntary assisted dying in several other countries have come close on the heels of Belgium.
Japan
The legal framework for Anrakushi or 'peaceful death' in Japan has been established through judicial cases. However, no additional policies have been framed and the government has not taken a fixed position on euthanasia.
The first matter concerning active euthanasia reached the Japanese courts in 1949 but the state took no stand on the issue. Along the way, similar cases were filed and based on those judgments, a basic framework was developed. However, it was the Tokai University Hospital Case of 1995, that helped Japan establish stricter pre-requisites for physicianassisted suicide and voluntary euthanasia. To opt for either of these, it is necessary to have a clear and voluntary desire to terminate one's life, along with imminence . of death, unbearable physical pain as well as lack of any alternative treatment. Through various judgments, Japan established that in cases where a patient's express request to assist in dying is absent, the medical service provider (doctor or clinic or hospital, as the case may be) shall be held liable for murder. Only in cases where all these conditions have been met, will euthanasia be permissible.
The Japan Society for Dying with Dignity has approximately 125,000 registered members across the country. All members carry identification cards that say they refuse to receive any life-saving treatments once they enter the terminal phase of their illness.
Finland
In May 2018, nearly 50,000 signatures were collected under an initiative by the citizens of Finland to initiate Right to Die. The nation's Parliament, however, rejected the legalisation of active euthanasia by a vote of 128 to 60 against the initiative. Assisted death is however legal in Finland. It entails end-of-life care services where a patient selfadministers a deadly dose of lethal medicine.
Colombia
Colombia, the first Latin American country to allow legal euthanasia, regulated it under Resolution 1216/2015. In 1997, the Constitutional Court of Colombia held that an individual may choose to end his or her life and that doctors assisting such persons cannot be prosecuted for the same. However, this translated into a law only in June 2015.
Germany
Germany has a long history of anti-Semitic persecution and genocide during the Holocaust. In this context, euthanasia took on an impossibly sinister meaning when it was used as part of Adolf Hitler's systemic killing programme which aimed to rid the nation of physically and mentally disabled individuals. Owing to its ominous history in the country, euthanasia remained a taboo idea in Germany for a very long time.
However, since November 2015, physician-assisted suicide is legal in Germany, which is performed on a case-to-case basis. Despite this, commercialising death is severely looked down upon, while motives, altruism and selflessness of the parties involved are analysed with microscopic precision to avoid chances of mishap. Active euthanasia is still a criminal act in Germany
South Korea
According to a survey conducted by the state-run Korea Institute for Health and Social Affairs in 2014, 88.9 percent of respondents aged 65 and above objected to continuing medical care to prolong life without the possibility of recovery. Only 3.9 percent chose to support continued treatment.
In January 2016, South Korea's National Assembly passed a law that allows incurable patients to reject life-prolonging treatment. In order to develop its first "welldying" law, a pilot programme has been planned. More than 3,000 people have signed up under this project to forgo artificial lifeextending treatment when they become incurably ill.
Canada
Canada has grabbed top spot in 2017 Country RepTrak, published by the Reputation Institute, an annual ranking of reputations of nations. They are ranked on the basis of parameters like effective government, advanced economy and appealing environment. Lately, Canada has also been championing the right to die with dignity by supporting those seeking assisted death.
In June 2016 a new federal legislation came into force creating a regulatory framework for physician-assisted suicide in Canada. To receive medical assistance in Canada, it is imperative to fulfil the following conditions. The patient should be:
A major
Eligible for enjoying health services funded by the Canada government
Suffering from a grievous and irremediable medical condition, at an advanced stage
In a position to have made a voluntary request for medical assistance in dying
In a position to have given informed consent to receiving medical assistance in dying. The consent should be taken after he or she is informed of the available alternatives to relieve suffering, including palliative care.
Able to foresee natural death, within a specific period of time
France
In France, 2005-370 of April 22, 2005 (also called Leonetti's law), allows the right to die. It prohibits unreasonable obstinacy in investigations or therapeutics and authorises the withholding or withdrawal of treatments when they appear "useless, disproportionate or having no other effect than solely the artificial preservation of life". France recognises relief from pain as a fundamental right of patients. It advocates for administration of pain-relief medication even if these treatments hasten a patient's death. In fact, French law also allows doctors to make these decisions, but there are strict requirements to be followed before the process is undertaken.
Euthanasia: Permissions and Punishment
While euthanasia is considered illegal in some countries, if the patient explicitly requests or the nearest kith and kin of the patient does so in case the patient is unable to express such a request, artificial life support systems may be withdrawn, and he/she can refuse intrusive procedures that will merely elongate life without actually treating him/her. A similar form of passive euthanasia was legalised by the Supreme Court in the Common Cause vs Union of India 2018 judgment, wherein a five-judge Bench upheld the right to die with dignity as a fundamental right under Article 21 of the Constitution. The judgment also provided legal validity to Advance Medical Directives which can be drafted by individuals to refuse life-prolonging medical treatment in case of a terminal illness in the future.
In several countries discussed above, including India, the act of active euthanasia is a penal offence amounting to homicide or manslaughter, as the case maybe.
Conclusion
Although the Supreme Court has been actively pursuing the right to self-determination through various cases, there is a serious lack of any statute, policy or guideline emanating from the legislature. This calls for an urgent need to formalise a system which ensures that provisions for euthanasia are not misused. Meanwhile the narratives surrounding ethics of medical care for the dying continue to expand globally. It would be constructive if India can take a leaf from the experiences of other nations.
An Advance Medical Directive according to Black's Law Dictionary is "a legal document explaining one's wishes about medical treatment if one becomes incompetent or unable to communicate"
The term Advance Medical Directive is often used interchangeably with Living Will, although the former is a much more elaborate document in several countries. While Living Will merely expresses an individual's wishes regarding medical treatment when he is unable to communicate, an Advance Medical Directive can include healthcare, medical power of attorney, directions on acceptance or refusal of treatment and Do Not Resuscitate orders when one reaches a state of norecovery.
The Apex Court judgment is comprehensive and includes detailed guidelines required to outline a framework. However, euthanasia is a complex issue and demands both ethical and emotional responses. Apart from the patient, relatives of the terminally ill have to navigate a cultural minefield when it comes to taking a firm decision on this matter. At the same time, there is also the undeniable truth that end-of-life situations are ripe for exploitation. Therefore, there's a great scope for Supreme Court guidelines to be supplemented with additional provisions by the legislature, as was also suggested by the Court in the present case. Academic and research-oriented exercises can be undertaken to better understand the practical implications of this complex issue.
Until then, the Supreme Court's landmark judgment could be the lodestar, amid the noise around euthanasia debates, guiding us towards a simple truth: exercising autonomy over one's life (and death) comes before everything else.
References
Bhat B., Sandeepa. and D., Shyamala. 2011. "Euthanasia Regime: A Comparative Analysis of Dutch and Indian Positions". The West Bengal National University of Juridical Sciences. NUJS/WP/2011/03. http://www. nujs.edu/workingpapers/euthanasia-regimea-comparative-analysis-of-dutch-andindian-positions.pdf&embedded=true. (Accessed June 20, 2018)
Bosshard, G., Fischer, S. and Bar, W. 2002. "Open regulation and practice in assisted dying". Swiss Medical Weekly,132 (37-38), pp.527-534.
https://smw.ch/resource/jf/journal/file/ view/article/smw/en/smw.2002.09794/ smw.2002.09794.pdf&embedded=true/. (Accessed June 20, 2018)
Braithwaite, J., Mannion, R., Matsuyama, Y., Shekelle, P., Whittaker, S. and Al-Adawi, S. (eds.) 2017. Health Systems Improvement Across the Globe: Success Stories from 60 Countries. Florida: CRC Press.
Choon, Chang May. 2017. "3000 South Koreans Choose to 'Die Well' in Trial of New Law". The Straits Times, December 16, 2017. https://www.straitstimes.com/ asia/east-asia/3000-south-koreans-chooseto-die-well-in-trial-of-new-law. (Accessed June 20, 2018)
Common Cause (A Registered Society) vs Union of India and ors. 9 May 2018. Writ petition (C) 215 of 2005.
"David Goodall: Scientist, 104, Ends His Life in Switzerland". BBC News, May 10, 2018. https://www.bbc.com/news/worldeurope-44069885 (Accessed June 20, 2018)
"Euthanasia, Assisted Dying, and Suicide". BBC, August 25, 2018. http://www. bbc.co.uk/religion/religions/hinduism/ hinduethics/euthanasia.shtml#top (Accessed June 20, 2018)
"Finland Slashes Citizens' 'Dying with Dignity' Initiative for Euthanasia". Sputnik International, May 05, 2018. https://sputniknews.com/ europe/201805051064171111-finlandeuthanasia-initiative/. (Accessed June 20, 2018)
Hayashi, M., Kitamura, T. 2002. "Euthanasia Trials in Japan: Implications for Legal and Medical Practices". International Journal of Law and Psychiatry. 25 (2002) 557-571. http://www.institute-of-mentalhealth.jp/thesis/pdf/thesis-03/thesis-03-08. pdf (Accessed June 20, 2018)
Hongo, Jun. 2014. "Euthanasia: The Dilemma of Choice". The Japan Times, February 15, 2014. https://www.japantimes. co.jp/life/2014/02/15/general/euthanasiathe-dilemma-of-choice/#.W0Sy1tIzbIV. (Accessed June 20, 2018)
Kure, Joseph. 2011. "Good Death Within its Historical Context and as a Contemporary Challenge: A Philosophical Clarification of the Concept of 'Euthanasia'". In Euthanasia: The "Good Death" Controversy in Humans and Animals, edited by Joseph Kure, 3-45. Croatia: InTech. https://nphf.nl/footage/ fm/File/Euthanasia_-__The____Good_ Death____Controversy_in_Humans_and_ Animals.pdf&embedded=true. (Accessed June 20, 2018)
Locke, Sam. 2018. "Australian Scientist, 104, Planning to End His Life at A Swiss Suicide Clinic Will Have to Prove He's Not Insane or Doctors Won't Let Him Kill Himself". Daily Mail Australia, May 6, 2018. http://www.dailymail.co.uk/news/ article-5696251/Australian-scientist-104- end-life-Swiss-suicide-clinic-prove-hes-notinsane.html (Accessed June 20, 2018)
Papadimitriou, J.D., Skiadas, P., Mavrantonis, C.S., Polimeropoulos, V., Papadimitriou, D.J. and Papacostas, K.J. 2007. "Euthanasia and Suicide in Antiquity: Viewpoint of the Dramatists and Philosophers". Journal of the Royal Society of Medicines. 100(1): 25-28. doi: 10.1258/ jrsm.100.1.25. https://www.ncbi.nlm.nih. gov/pmc/articles/PMC1761665/. (Accessed June 20, 2018)
"Pilot 'Right to Die' Program Gets Warm Reception at South Korea". The Korea Herald, October 26, 2017. http://newsinfo. inquirer.net/940774/south-korea-rightto-die-health-death-asia#ixzz5I3THtzRJ. (Accessed June 20, 2018)
Reputation Institute. 2018. "Country RepTrak- Annual Ranking of Most Reputable Countries Worldwide". https:// www.reputationinstitute.com/countryreptrak (Accessed June 20, 2018)
Rietjens, J.A.C., Van der Maas, P.J., Onwuteaka-Philipsen, B.D., Van Delden, J.J.M. and van der Heide, A. 2009. "Two Decades of Research on Euthanasia from the Netherlands. What Have We Learnt and What Questions Remain?". Journal of Bioethical Inquiry. 2009 Sep; 6(3): 271– 283. doi: 10.1007/s11673-009-9172-3. https://www.ncbi.nlm.nih.gov/pmc/articles/ PMC2733179/. (Accessed June 20, 2018)
Youug, K.K. 1994. "A Cross-Cultural Historical Case Against Planned SelfWilled Death and Assisted Suicide". McGill Law Journal. (1994) 39 McGill L.J. 657. http://lawjournal.mcgill.ca/userfiles/ other/2218870-39.3.Young.pdf&embedded=true. (Accessed June 20, 2018.
---
April-June, 2018